Camfrog Mobile Installation Guide
Learn how to install Camfrog Mobile on your PDA running Windows Mobile.
Install Camfrog Mobile easily on your PDA
As most of Windows Mobile applications, Camfrog provides two ways of installation: CAB installer and MSI installer. You can use either at your convenience. Both are compact single file installation packages and installation will happen mostly automatically, you just need to follow installer prompts.
Installing MSI package
MSI installer is intended for installing our application on your PDA while it is connected to your PC. You have to have Microsoft ActiveSync installed properly in order to use the MSI installer.
Once you have downloaded CamfrogMobile.msi on your PC from http://download.camfrog.com/mobile/, connect your PDA to PC and make sure ActiveSync has recognized it. If you experienced any troubles at this step, make sure you have the latest version of Microsoft ActiveSync installed.
When your PDA is connected, run CamfrogMobile.msi on your PC and follow the screen instructions.
During the installation process you may be warned that the application publisher is unknown. This warning is safe to ignore so click "Yes".
Installing CAB package
CAB installer has to be started from the PDA. You can download the package from http://download.camfrog.com/mobile/ using your mobile web-browser or you can download the CAB file from http://download.camfrog.com/mobile/ using browser on your PC. If you have downloaded it already to your PC, you can transfer the file to your PDA using Microsoft ActiveSync.
In case the browser won't launch the installer automatically, you have to locate СamfrogMobile.cab with File Explorer and tap the file to start it manually.
The installation process is fully automated.
If you have a flash memory card installed, a screen will also appear allowing you to choose the installation destination, internal memory or flash card. Make your choice and tap Install.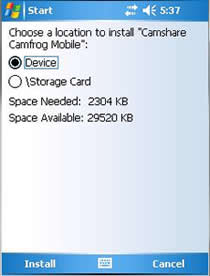 Installing progress. If you have the previous version of CamfrogMobile installed, a window will appear requesting you to remove the previous version of the program.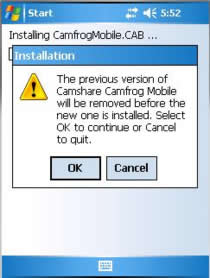 Installation complete To run the program, locate it in your Programs menu by tapping Start > Programs.